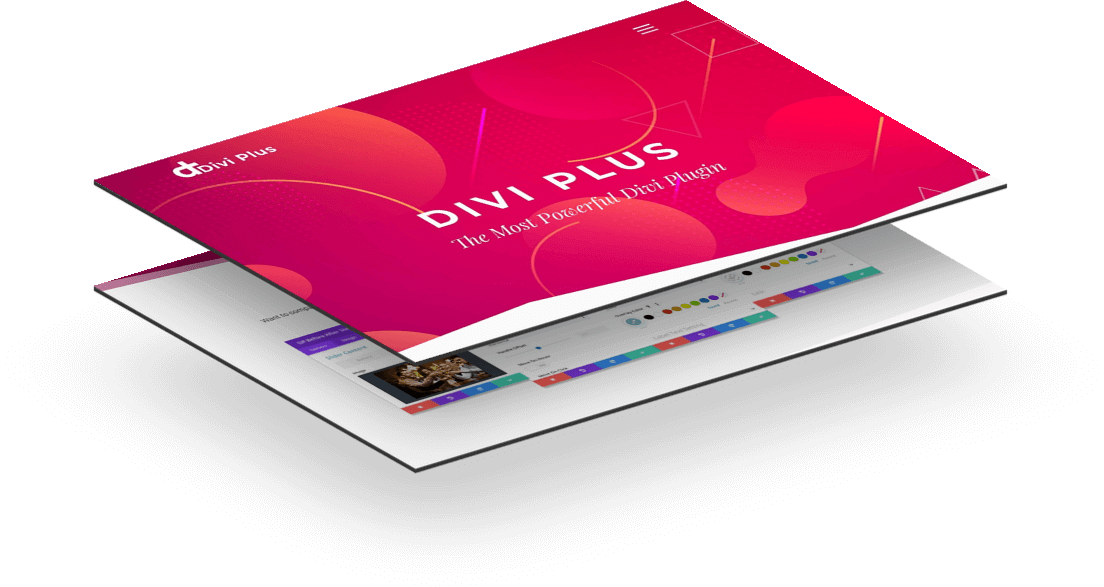 Divi Plus
$59.00 - $149.00
Divi Plus is a powerful multipurpose Divi plugin, which can help a user to create beautiful elements of a Divi theme with no coding required. This single plugin has 51 useful Divi modules that can take your website designing experience to a whole new level. Using this plugin, you can create Divi breadcrumbs, beautiful headings, and text, before and after image slider, attractive separator, and much more.
Using the Divi Plus plugin's powerful modules, one can create an outstanding website with modern web elements. No need to do any coding or apply custom CSS. Plus, with this plugin, you get pre-made starter Divi templates to boost any web project.
51 Modules in a single Divi Plus Plugin
WooCommerce Product
Under this module, you get the option to display all your product in the category like default, featured product, sale products, best selling product, and top-rated product. In this, you also have the option to display the store's product in up to 6 columns. Moreover, with one click you can choose hide or show out of stock and enable masonry that engages your audience immensely.
WooCommerce Carousel
Showcase your products on WooCommerece store with a nice and clean carousel effect. It comes with 4 fantastic layouts-Flip, Cube, Coverflow, and slide. Plus you can add styling to the slider arrow and pagination to achieve the maximum effect of the carousel.
Woo Product Categories
Create store product categories in a very smart way using the WooCommerce product category module. It comes with 2 stunning layouts in which you can display categories on a webpage. Layout 1 has a thumbnail image and below it, category name & number of product and in Layout 2 has a thumbnail image upon it appears the category name and number of product but with using the show content on hover.
Scroll Image
Using this module, you can scroll the images in multiple directions when hovering on them. Images can be set to scroll in Top, Bottom, Right, and Left direction in some clicks only. It comes with a powerful customization feature so you can control scrolling speed, adjust the height and width, change image alignment, and much more that make a picture more than a picture.
Image Mask
This module puts the image inside a shape. It contains 11 beautiful pre-built mask shape and each come with different style make this module highly customizable. Moreover, in this, you got 8 element styles that enhance the beauty of the masked image.
Floating Image
The floating image module allows you to float an infinite number of images within a customized container. This floating module provides lots of animation effects like image floats up-down & left-right, animation speed curve ease in out, ease-in, and linear, making this module more impressive & dynamic.
Interactive Image Card Carousel
Display images on the slider with the informative element like button, content, and icon using the interactive image card carousel. And all the elements can be styled that take this module to the next level. Moreover, you can style the slider arrows and pagination dots that enhance the beauty of the slider.
Image Magnifier
Using this module user can see a detailed area of the image where the image magnifier hovers to the picture and the magnifier lens size can be adjusted as per the user requirement. It is a simple and easy-to-use module you can easily apply to the image just with few clicks.
Interactive Image Card
With this module, you can display images with beautiful layout effects. This module comes with 11 effective layouts all are unique and make your image card more specific. You can add content to the image and layouts can control by customizing their border size, color, and many more styling setting.
Text Highlighter
Text highlighter comes with 7 amazing highlighting styles using this users can highlight the information on the webpage. In this, you can select a heading tag from the content tab and can perform customization on the heading. Pre and post-text functionality in the module allows you to highlight simply a part of the text and text can also be displayed in the stack it all depends on user designs.
Tilt Image
An interesting and super fast module to display an image with a 3-D effect and tilt effect on hover. Plus you can add an icon, button, title, and description to the image and can style each & every element effortlessly.
Bar Counter
Create a bar counter with any of 2 beautiful layouts for presenting skill in your business. Both layouts are unique in their way and display your purpose with a clear vision. This is very highly customizable module comes with lots of design options. Moreover, you can add the title with a percentage that makes sense and deliver clear detail to your audience in one sight.
Divi Plus Content Toggle
This powerful functionality module of the Divi Plus plugin allows you to add key content in a compact form with a switch. Create pricing tables with toggle, add product features comparison table with toggle. And create a lot more content areas that need to be lengthy,, but you can make them engaging using the Content toggle module.
Divi Plus Timeline
Under this module, you get the option to create a beautiful timeline that adds extra beauty and feel to your storytelling. The timeline module of the Divi Plus plugin gives you the option to use icon and image on the timeline marker. Choose different layouts and customize it to your full potential to suit your website's design needs.
Divi Plus Modal Popup
Want to display interactive Divi popups on your website? Then, Divi Plus modal popup module can become your best tool to achieve that functionality. Using this module, you can display popups, images, videos, text, and library layouts in the lightbox. Plus, the popup you will create can be triggered on page load time and using a Button, an Icon, Image, CSS, and text.
Divi Plus Live Ajax Search
Provide your website users and visitors a faster and better way to search your website and navigate different areas.
Divi Plus Blog Slider
Using the Blog Slider module of the Divi Plus plugin, you can create recent posts sliders on your Divi theme website. Moreover, create beautiful archive pages with a sliding effect.
Divi Plus Testimonial Grid
A super easy and effective plugin to display client testimonials on your website in a Grid form with star rating support. You can also apply the masonry style and customize the testimonials to match your website's design specifics. In addition to this, the Divi Plus plugin adds a custom post type for testimonials. So, you can easily display on your website without any extra effort.
Divi Plus Testimonial Slider
Testimonial Slider module is another module available with the Divi Plus that allows you to display client testimonials. However, using this module, you can display client testimonials on a slider with different beautiful layouts and sliding effects.
Divi Plus Form Styler
Want to style your Caldera and Contact Form 7 on your Divi theme website? Then, the Divi Plus Form Styler module can help you do that easily. You can style the fields, you can style the button. Using this module, you can almost style every area of the contact forms created using the Contact Form 7 and Caldera Forms.
Divi Plus Advanced Button
Use this module you can add impressive buttons that fulfills the purpose of what they were created in the first place. It comes with multiple layouts and styling options that make this module the first choice when designing cool buttons. Using this module, you can add inline buttons, conversion button for marketing, and animated buttons for high engament.
Divi How To Schema
Forget about the usual method of creating HowTo structured data pages and use the How To Schema module. This module allows you to create HowTo structured pages in less time with style and delicacy. Customize each step on the instruction and make them more understandable.
Divi Plus Breadcrumb
Using this module, you can add custom breadcrumbs to your Divi website. This module makes the process of adding attractive breadcrumbs easy. After using this module, there's no need for a plugin like Yoast SEO to display breadcrumbs on the web page and the search result. With the Divi Plus Breadcrumb module, you get 2 beautiful breadcrumbs layouts that can easily be added to a web page.
Divi Plus Flip Box
The flip box module available with the plugin provides you with the option to add interactive flip boxes that engage site visitors more than anything. Using this module you can flip flip boxes in multiple directions, can add a 3D flip box, use icons on the flip boxes at multiple locations. Moreover, you can add a custom read more button to the flip box as well.
Divi Plus Fancy Heading
With the help of the Divi Plus Fancy Headings module, you can add stunning headings to your web pages. This module has multiple customizations. Such as headings with color variations, different font styles and font-weight, and background having color, gradient, or image in int. So, you can bring real creativity to your work. With this module, customize all the headings level (h1-h6) without writing any code or custom heading CSS.
Divi Plus Fancy Text
An easy-to-use module that allows users to add text with a gradient or background image. Plus, you can also do multiple customizations using this module to create your website's text more attractive and engaging. For text background customization with this module, you've got the freedom to use GIF, a simple image, or any image that makes your text look better than before.
Divi Plus Text Animator
Over 10+ Divi animated text styles inside this single module. You can easily choose any style and create attractive and engaging animated text in minutes without any coding.
Divi Plus Before and After Slider
Using this module, you can compare two versions of an image with a cool slider. Image slider has different orientations, multiple sliders, custom labels, and other customizations.
Divi Plus Hotspot
Using this module, you can easily create self-explanatory images. This module adds spot areas to the images where you can add information on them. When users click or hover upon those hotspots, a tooltip displays that showcase the information.
Divi Plus Separator
Now, you can add a beautiful separator to your web pages. This module allows the user to add 8 types of separator lines. Plus, you can also add a separator with text or a cool icon.
Divi Plus Business Hours
Create custom business hours using the Divi Plus Business Hours module. So, your business hours fit well with modern web design trends.
Divi Plus Logo Slider
Using this module, you can showcase logos on the slider. Use it to display your client's logo, awards you've won, and the magazine or online portal you've featured in.
Divi Plus Price List
Effortlessly add pricing of your product and services you provide on your website. Multiple layouts available with this module provide you with the opportunity to keep variations on the entire website and its products.
Divi Plus FAQPage Schema
Easily create FAQ pages on your website optimized for FAQPage Schema, so they can appear in the search as rich snippets.
Divi Plus Facebook Comments
This module provides you with the option to add a comment box where users can leave their comments using their Facebook account. Moreover, this module allows provides users an option to share their comments on their Facebook news feed.
Divi Plus Facebook Like
It allows you to add a Facebook Like button to your website's content. This will further enable users to like your page and posts using their Facebook account/
Divi Plus Facebook Page
Use this module if want to showcase your Facebook page's timeline updates on your website. And not only updates but you can also display upcoming events and allow users to send messages directly from the website to your Facebook page's inbox.
Divi Plus Facebook Share
By using this module, you can add a Facebook share button on your website that would allow users to share your website's content.
Divi Plus Facebook Embedded Comment
The Facebook Embedded Comment module enables you to display a Facebook comment on your website.
Divi Plus Facebook Embedded Post
The Facebook Embedded Post module enables you to display a Facebook post on your website.
Divi Plus Facebook Embedded Video
The Facebook Embedded Video module enables you to display a Facebook video on your website.
Divi Plus Twitter Embedded Tweet
It allows you to display your tweets on your website without any extra effort.
Divi Plus Twitter Follow
The Twitter follow module of the Divi Plus plugin provides you with the option that enables you to add a Twitter Follow button on your website. This will help users follow your account directly from your website.
Divi Plus Twitter Share
This module allows you to add a Twitter share button to your website. So, users can easily tweet your content on their Twitter accounts.
Divi Plus Twitter Timeline
Display Twitter timeline on your website easily. Plus, apply customization options to make it look better and engaging.
Divi Plus Star Rating
Showcase star rating on your website for multiple things such as products, services, reviews, and more. The module follows the star rating schema, so, each time you add something using the star rating module they will appear in the search as rich snippets.
Divi Plus Masonry Gallery
Create beautiful Divi masonry galleries that allow you to display gallery images in the lightbox. Add gallery images in up to 10 columns, customize lightbox background, add overlay icon, provide space between images, and many more fantastic options.
Divi Plus Lottie Animation
Attract website visitors at their first visit by displaying engaging Lottie animations with multiple styling options.
Divi Plus Image Accordion
An interesting module to display content on sliding images. It allows you to change image when default accordion image hovered. You can also add a read more button to provide more information about the content on the image. And multiple other options to make image accordion work smoother.
Divi Plus Image Card
The image card module of the Divi Plus plugin can be used to create engaging & beautiful blurbs with an icon at multiple locations, images, and read more links.
Divi Plus Team Slider
Build trust among your website visitors or customers by showcasing them your qualified and experienced team members. Display team members' image, a short introduction, skills, social profile, contact details, and a lot more.